Inside a tangle of scaffolding that rises above the modest homes of a south-central San Diego neighborhood, a new energy-efficient school is taking shape.
On the second floor of the skeletal structure, a young man in a hardhat carefully measures and bends a metal conduit to a precise angle. Then he climbs a ladder and connects the thin pipe to an electrical switch box on the ceiling, where it eventually will hold wires over the heads of middle-school students.
The young worker is Artem Voloshanovskiy. A year ago, he was selling used cars and wondering where his life was headed.
Now he's an apprentice with the International Brotherhood of Electrical Workers (IBEW). At age 22, he's learning a trade and building a solid career while proudly helping build a state-of-the-art school.
When the San Diego Unified School District board passed a $2.1 billion bond a few years ago, it decided to get a triple bang for the money, providing environmental sustainability and good jobs while paying for school construction and renovation.
Former school Board President Richard Barrera:
We realized that as a school district we've got a lot of capacity to leverage change in our communities. When taxpayers invest in rebuilding our schools, we can create not only great facilities but also a whole generation of career opportunities for young people in our most distressed communities. That way our students will graduate into a better economy.
First, the bond included strong green-building requirements that surpass California's latest energy efficiency standards.
Knox Middle School, where Artem is working, is one of many dilapidated schools throughout the district that the bond money is transforming into models of energy efficiency. It is located in a quiet, mostly Hispanic neighborhood where the median household income is under $30,000.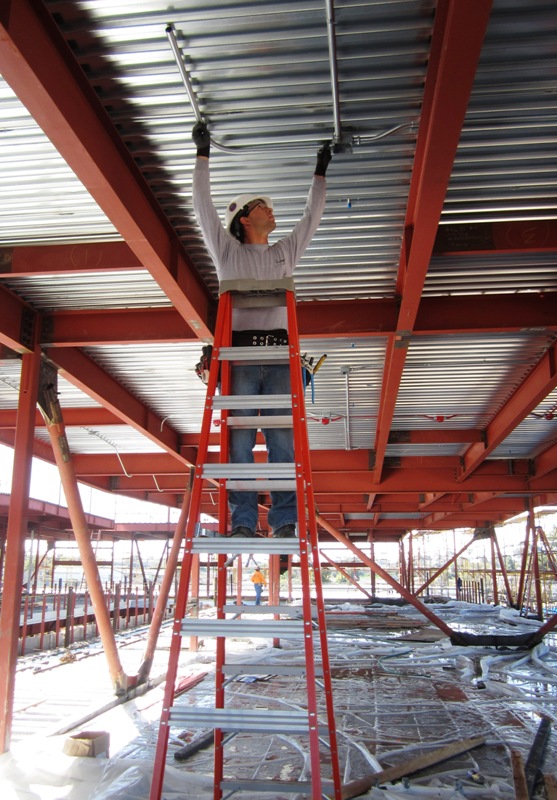 At Knox, a number of old, inefficient portable classroom buildings will be replaced with the new, two-story permanent building, featuring high-efficiency heating, ventilation and air-conditioning systems and high-quality insulation.
In a second policy decision, which proved more controversial, the school board approved a "Project Stabilization Agreement" with local building trades unions. Under that agreement, every construction contractor paid through the bond must provide good, union jobs and apprenticeships for local residents, and specifically residents of disadvantaged zip codes.
That's what put Artem Voloshanovskiy on the construction team at Knox school.
Artem immigrated to the U.S. with his family at age 11, from Moldova, a small Eastern European country tucked between Ukraine and Romania. After graduating high school, he was at loose ends, bouncing between jobs as an unskilled laborer and car salesman.
With the IBEW apprenticeship, he has found a career. Artem said recently:
The work is interesting. I'm never bored at work. I like knowing I have a skill I can rely on no matter what. Electrical work is a huge field that's constantly evolving.
The apprenticeship lasts five years, combining evening classes twice a week with full-time work paid well above minimum wage. Most of the learning is done on the job, where he works alongside journeyman electricians.
In class, he learns everything from the specific techniques of wiring a switch to the science behind why one metal is a better conductor than another.
Artem said with a grin:
On the job, you put these things to work right away. It's like going to a school I don't have to pay for. They pay me.