Early in the morning in the middle of August, in cities across the state of California, alarms went off, coffee was made, and bags were packed as families left their homes to travel to Bakersfield for a massive mobilization in support of comprehensive immigration reform and a road map to citizenship.
Some activists came in vans and some came in cars, motorcycles, and even a giant Teamsters bus, but together thousands spoke in one voice to send a clear message to Rep.. Kevin McCarthy: We demand a vote on comprehensive immigration reform that contains a pathway to citizenship!
As the House Majority Whip, Congressman McCarthy has the power to influence Congressional leadership like few others can, which is why the "Caravan to Citizenship," which departed from a dozen cities around the state, converged at McCarthy's office.
As the temperature began to rise through the morning, so did the number of people that flooded into downtown Bakersfield. Thousands of activists listened to leaders such as California Labor Federation Executive Secretary-Treasurer Art Pulaski, Executive Secretary-Treasurer of the Los Angeles County Federation of Labor Maria Elena Durazo, legendary labor organizer Dolores Huerta, United Farm Workers President Arturo Rodriguez and SEIU Vice President Eliseo Medina, talk about bringing long-overdue justice for millions of immigrant families.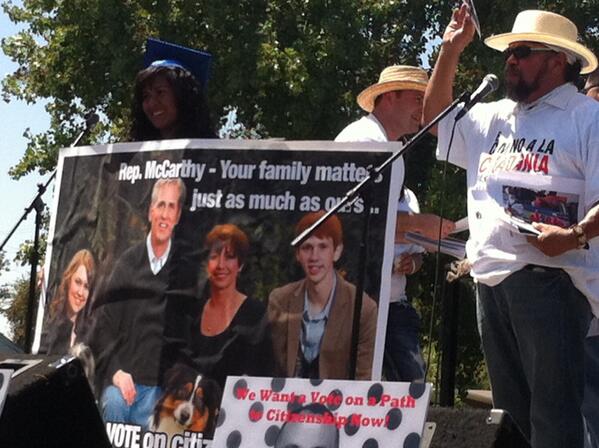 The only thing stopping us from achieving this goal are the tea-party extremists in Congress who are more concerned with obstructionism and xenophobia than the American Dream, and that message resonated with the activists and caravan participants from every corner of the state. People brought photos of their families adding to a display on stage with a simple message: Rep. McCarthy- Your family matters just as much as ours.
After the rally, people lined up two-by-two to march to Congressman McCarthy's office to deliver a message that the road to citizenship is here in Bakersfield, and it's his duty as a leader to demand a vote on immigration reform with a pathway to citizenship.
Rob England, a Bakersfield native and Vice President of the Kern-Inyo-Mono CLC, has been working closely in a diverse and broad local immigration coalition in preparation for this event. Early in the day, Rob's hard work was realized when he began to see cars file into the park. With a giant smile on his face, he ran to greet volunteers with hugs and handshakes. England:
I knew this was going to happen, I knew this was going to be big but it's something else to witness it, this is how we win!
California continues to demonstrate how unions, faith and community are collectively working together to fix our broken immigration system and turn dreams into reality for 11 million aspiring Americans who for too long have been left in the shadows. And we will continue the fight until we achieve the real reform our nation desperately needs.
Check out more photos from the Caravan to Citizenship on Flickr.