Organizing is the lifeblood of the union movement. It is through organizing that our union was born. It was organizing that enabled us to negotiate our earliest contracts, not to mention all of the subsequent gains we've made at the bargaining table ever since. It is organizing that gives us our collective power, and organizing will be what sustains and strengthens our union for years to come.
Nowadays, IBEW Local 1245 has become synonymous with organizing, thanks in large part to our extraordinary and dynamic Organizing Steward program. This relatively new program has cemented Local 1245's place as one of the most effective organizing locals in the Labor Movement, both locally as well as nationally. The program empowers rank-and-file members to get involved in issues and campaigns that truly matter to working families, enables them to hone their leadership capabilities, and equips them with the tools and skills they need to fight – and win – for workers.
At the dawn of this decade, IBEW 1245's Organizing Steward program was little more than a pipe dream in the mind of Local 1245 Business Manager Tom Dalzell.  It grew out of the NV Energy fight led by retirees, as well as the PG&E clerical contract fight in 2009 and 2010.  With the vision of Dalzell, the enthusiastic endorsement of the Local 1245 Executive Board and the talent of veteran organizers Fred Ross and Eileen Purcell, the Organizing Steward program was born. It was tailored as a hands-on, intergenerational leadership development program that placed stewards in live campaigns. The first Class of 28 organizing stewards was inducted in 2014.  Over the past five years, the program has exploded in both size and reach, and on January 26, 2018, Local 1245 welcomed a whopping 111 Organizing Stewards — our largest class to date — to Weakley Hall for the annual kick-off and orientation.
Approximately half of this year's class are newcomers to the program. Many of the first-year stewards, like Cinnamon "Cindy" Stafford, were recruited into the program by other organizing stewards who see their potential as future leaders.
"I've been with the company for 17 years, but I never really knew about the union and what it actually does for the employees before," said Stafford, who works in PG&E's credit department in Stockton. "I'm just now realizing what the union does for me. For instance, when I would get a raise, I used to think the company just gave it to me — I didn't realize that all our raises are all because the union negotiates for them. When you aren't that involved with the union, then you don't know this stuff, until someone sits down next to you and starts explaining it to you. I'm sure there are others just like me who just don't know, and I hope that, as an organizing steward, I can help educate them."
Felicia Martinez is another first-year organizing steward. In 2017, as a prospective organizing steward, she worked on a union organizing campaign at San Diego Gas & Electric, and found the experience to be both empowering and inspiring.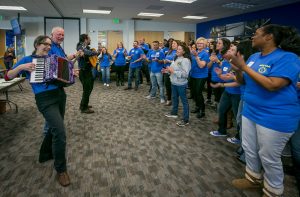 "I'm excited for the opportunity to become more involved in the union, and to help others get the same rights and benefits that I have," said Martinez. "I've had a union job my whole adult life, and it's given me so much –it's allowed me to provide not just for my child, but also for my own mom and my two brothers. I know I have it pretty good, and I just want to pay it forward and continue to help others, and know that I made a difference in their lives."
In what has become a tradition, the organizing steward orientation kicked off with a rousing sing-a-long, led by Staff Organizer Eileen Purcell on the accordion, Local 1245 retiree Jim Lappin on banjo and musician Francisco Herrera on the guitar.
Local 1245 Business Manager Tom Dalzell welcomed the packed house of stewards with some words of gratitude and motivation.
"[The Organizing Steward program] has changed the character and culture of this union. We have made it much more powerful, and we have become an example for other unions. I can't go anywhere in the United States without people asking about this program," Dalzell told the stewards. "We're facing some of the toughest fights we've ever faced, but now we have this powerful weapon that was not in our arsenal before. I couldn't be prouder. Thank you for all of the work you do!"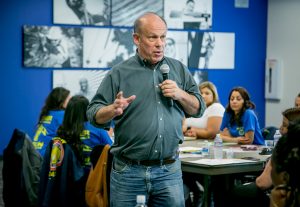 The first activity allowed the stewards to get to know one another. They broke out into groups, introduced themselves, shared their personal stories and talked about some of the concrete differences the union has made in their lives.
"I value the stability that we have. I was in and out of different jobs my whole life until I got in with the union," said Mark Goodwin. "And I like the solidarity, the whole feeling of working people standing together."
"The union has changed my life. It's been really eye-opening for me," said Alvin Dayoan. "I appreciate that the union gives us job security and great benefits, and also the right to have a voice and organize!"
"Before I started working at PG&E, I didn't really like unions," said Georgette Carrillo, who has been part of the Organizing Steward program since its inception. "But once I got a good union job, I was like, 'Who wouldn't want this? It's great!'"
After the initial ice breaker, the group got right down to brass tacks. Staff Organizers Fred Ross, Eileen Purcell and Rene Cruz Martinez discussed the goals and some of the important campaigns that the organizing stewards will be tasked with in 2018, including building power in the public sector, and working to elect more worker-friendly candidates to office in this key election year. IBEW International Lead Organizer Rick Thompson shared the details of some new worksites that we hope to bring in to the IBEW, and called on the stewards for their support to grow our union's ranks this year.
The stewards had the unique opportunity to screen a powerful film called "Union Time," which tells the story of the lengthy, contentious and often violent fight for worker justice and union representation at Smithfield Foods, a massive meat processing facility in North Carolina. The workers fought for more than a decade to win union representation in the face of an extremely hostile employer – but with the right organizing tactics and a dedicated team of member-leaders, they ultimately prevailed and won their union in 2008.
The next breakout session focused on the importance of having one-on-one conversations with other union members at work, to help them better understand the value of the union and the importance of getting involved. Eighty-three of the organizing stewards committed to recruit and bring one non – steward to the February 24th training on Janus and attacks on Labor Movement. Altogether, 165 members will be giving up a Saturday to build a stronger union.
At the end of the day, the stewards broke out into groups by region, and discussed activities, approaches and tactics to increase member engagement within their specific areas. Each steward left with a sense of purpose, a better understanding of the critical nature of the union movement, and an assignment to begin their important work right away.
"We don't just talk about it. We learn by doing," said longtime Organizer Fred Ross. "That's the underpinning of this program, and that's what solidarity is all about."
—